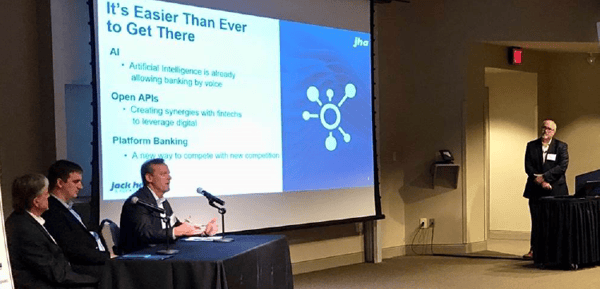 Joe Ehrhardt, CEO and Founder of Teslar Software, participated in the 2019 Banking and Finance Symposium hosted by The University of Mississippi last week. The symposium hosted seminars and guest lectures from industry leaders such as Warren Stephens, the CEO of Stephens Inc, and Mark Forbis, EVP and Chief Technology Officer of Jack Henry & Associates.
The event was a huge success with over 1,000 students, alumni, and professionals attending to learn more about the current environment of the finance and banking industry. The primary goal of the Banking and Finance Symposium is to educate financial professionals on the topics that currently impact the industry and what future trends to expect.
Ehrhardt spoke on a panel with a primary focus on technology trends in the banking industry and how these trends ultimately impact community banks. Joining Ehrhardt were Kevin Tweddle, Chief Operating Officer at ICBA Services Network, Jonathan White, Chief Information Office at Community Bank, and Mark Forbis. It was an honor to join this panel of industry leaders to add our insight on the current trends in the industry and where to expect financial technology to develop within the next few years.
We look forward to future opportunities to create relationships with those in the community banking world looking for impactful solutions that can help streamline different areas of their operations through events such as this.