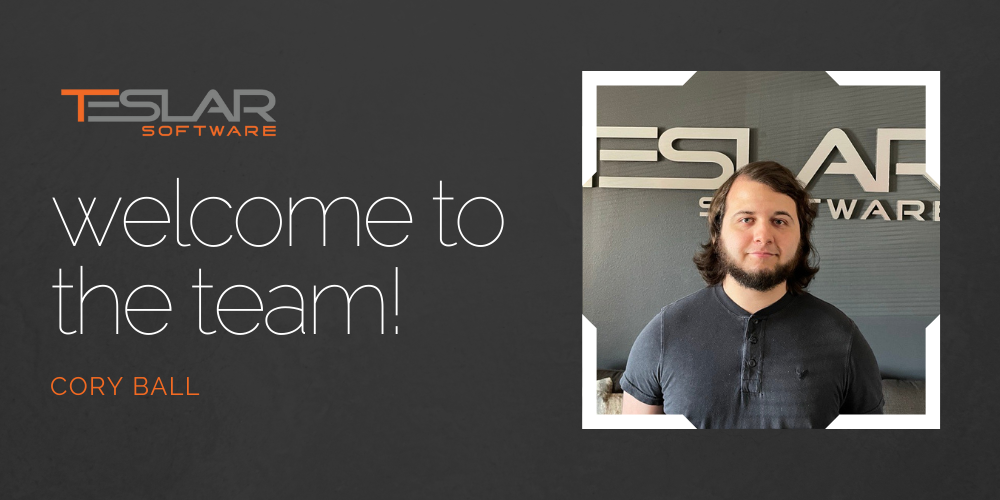 Please join us in welcoming Cory Ball to our Engineering team as the newest Software Engineer!
Cory joins us with experience creating websites and apps for clients. His role here at Teslar Software will be working on the development of new software as well as improving and correcting user experience with our current offerings. We chatted with Cory and asked him a few "getting to know you" questions to help us get better acquainted:
What kind of music do you like?
I enjoy lots of music! I play guitar, so I tend to like metal, rock, and alternative music from that influence. I also like hip-hop, rap, blues, etc. I enjoy most genres; I don't dislike any genre really. I am indifferent about country music.
What's the worst job you've ever had, and what did you learn from it?
I've been lucky with my jobs, honestly! I suppose I would pick my worst fit, although I enjoyed the people I worked with. I worked at Best Buy for 2 years, and I just didn't fit in as a salesperson.
What's the weirdest food you've ever eaten?
I was raised in a rural area, so I've tried many strange foods like cow tongue. It was definitely a texture thing, not my favorite memory haha.
What's your favorite TV show—the one you're always watching on repeat?
I love the Andy Griffith Show, I think its the nostalgia from my mom always watching it when I was young. I get the intro song stuck in my head all the time.
We are excited to have Cory be a part of the Teslar team!