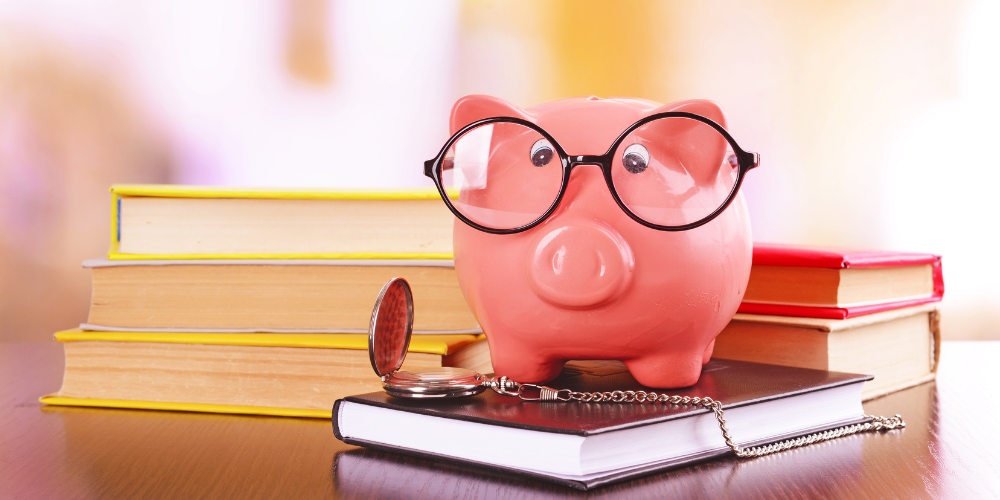 Establishing and maintaining healthy financial habits is an important part of daily life, but collectively, American knowledge of the subject has been severely lacking. Multiple studies and surveys found that kids, teenagers, and young adults were not being taught how to manage personal finances, credit cards, retirement funds, or debt by their parents or by the education system. A study Bank of America conducted showed that only 16% of Americans ages 18-26 feel optimistic about their financial future.[1]
With all these red flags popping up, the U.S. Senate felt it was important to establish a month dedicated to promoting financial literacy and to raise awareness of the importance of financial education and well-being. Financial Literacy for Youth Month was established in 2003, then in 2004 the Senate redesignated the month as a more general Financial Literacy Month (youth aren't the only ones in need of financial education!) [2]
Even if you feel confident in your own financial well-being, there are likely others in your family, community, workplace, or customer-base that can't say the same. Spread the word to help grow financial literacy in our communities!
There are many ways you can get involved in Financial Literacy Month. Here are some of our favorite (covid-friendly) ways for adults to get involved:
Test Your Financial Well-Being
Everyone's financial situation is unique. We typically think of finances as credit scores, income, and net worth. However, analyzing financial well-being looks deeper by examining your daily relationship with money. The Consumer Financial Protection Bureau (CFPB) defines financial well-being as "the state wherein an individual has a sense of control over day-to-day and month-to-month finances, capacity to absorb financial shock, being on track to meet financial goals, and the ability to make financial choices to enjoy life."
Take the CFPB's Financial Well-Being quiz and see how you fare. This quiz takes about 1-2 minutes to complete. Your data is not stored, no personal information is asked, and no email address is required to receive your score.
Brush Up on Your Non-Fiction Reading
Read a book or two on the subject to help develop your financial expertise.
Our team recommends: Why Didn't They Teach Me This in School?: 99 Personal Money Management Principles to Live By or Get a Financial Life: Personal Finance in Your Twenties and Thirties.
30 Steps to Financial Wellness
Complete Money Management International's 30 Steps to Financial Wellness challenge. This challenge sets you on a journey to complete the 30 steps in 30 days. Take the pledge and dive in. Steps include tasks such as obtaining copies of your credit report and setting financial goals.
Spread the Word on Social Media
Use your social media platforms to help spread the word about Financial Literacy Month! Share this post with your connections, or participate in one of the many webinars or social media opportunities this month. The Council for Economic Education has an extensive list of professional development webinars and social media engagement opportunities this month: Financial Literacy Month 2021.
Raising financially literate children is a great way to secure your child's future. Concepts found in personal finance merge well with valuable life skills such as problem-solving, decision-making, and self-control. A child's ability to understand varying aspects of financial literacy varies greatly based on their cognitive abilities, but there are steps that can be taken for children at any age to start teaching financial literacy.
Some of our favorite resources for teaching kids financial literacy:
Reading Together
A simple and effective way you can help to build your child's money skills is through reading. The CFPB offers many resources to help younger children (recommended ages 4-10) learn financial literacy at home or in the classroom, including an extensive reading list complete with downloadable reading guides that include key ideas, topics for discussion, and activity ideas to further learn concepts. You can locate the reading list and guides here.
The FDIC's MoneySmart program offers educational materials and lesson plans for both teacher and parent/caregiver guides covering various age-appropriate topics for grades K-12. Some of the lessons include needs vs wants, buying decisions, and saving and investing. There are also downloadable coloring and activity pages!
U.S. Currency Education Program's Currency Academy
The Currency Academy is a fun and interactive resource that children can participate in to learn all about paper money from an art and science perspective.
A fun app from the National Credit Union Administration for kids ages 5 and up to learn the concepts of earning, saving, and spending money. Also available in desktop.
15 Financial Literacy Crafts for Kids
Ideas from Kasasa for crafts kids can do at home that teach financial literacy concepts!