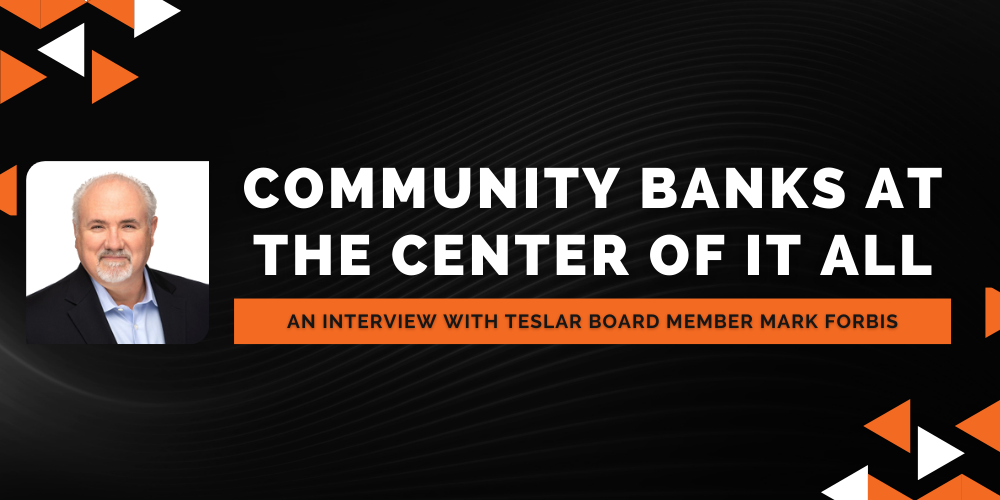 Meet Mark Forbis! Mark is the recently retired Executive Vice President and Chief Technology Officer of Jack Henry and Associates. During his 38 years in the industry, Mark has seen banking technology evolve and has become highly influential in the industry. Keeping busy during retirement, he also serves on the board of directors for Wausau, WI-based Incredible Bank, Batesville, AR-based Citizens Bank, Digital Check Corp, and, of course, Teslar Software.
Tell us a little bit about how you became a Board member for Teslar Software.
I met Joe a while back when I was at Jack Henry and he was at an Arkansas-based bank. We continued to cross paths over the years. When I heard about what he was doing with Teslar Software, I was really intrigued. I knew he was a smart guy, I knew he was building some cool things, and I was hearing really good comments about the company from mutual customers that we had. During one discussion I had with Joe, there was an opportunity to join the Board and I took it. As I've gotten to know the company more and more, I'm extremely impressed with everything that the company's doing and I'm excited to be a part of it.
Why do you invest your time serving on our board?
I've been in the banking technology industry for 38 years. I believe in community banking. Community banks are at the center of everything that happens, and I think they're vital to the economy and industry. As Teslar Software, we're able to help community banks, so it's important for me to try and impart some of my knowledge and wisdom I've gained over the years. I think it's a worthy investment of my time and it's fun, too.
What do you think Teslar Software can accomplish in this industry?
It's a combination of things. Over this past year, Teslar has been focused on helping community banks and helping their businesses. What Teslar has done and is doing to help with PPP applications and forgiveness is incredible. Not to mention constantly looking for ways to create efficiency in the banks. Teslar focuses mostly on the lending side but also helps on the deposit side, and those are areas that can always be improved. But more important than anything is agility and nimbleness. Those are things that community banks need right now, and I think Teslar has proven that we're able to deliver. Those are big asks, and I think the company pulling it together is making a big difference for the industry.
How can our solution help community banking?
The core of Teslar Software is empowering bankers to be more efficient. Banks want things like paperless options, help for the back office, and more importantly these days, help making it easier on the customer to do business with that bank. Teslar is right in the middle of that in everything that we do and that is huge for all bankers out there. It's a big impact—always thinking about making the customers' day easier, making the employees' day easier, making it secure. That's what we do.
What do you think our company is doing to create positive improvements in the banking community?
There are a lot of solutions out there, but not all of them are able to meet the banking community's needs. Being able to deliver on needs like making bank employees and their customers' lives easier, making it easier for bankers to communicate with customers, easier to get customers the funds they need (whether through PPP, SBA, or just regular lending), helping small businesses establish relationships with a financial institution, and tracking regulatory issues all make a big difference.
We have a great solution that will help banks manage through the good times and the bad. Nobody knows what the future looks like, but the economy is always something to be concerned about. Now more than ever, criticized assets and things like that are top of mind. A lot of industries have been impacted through this pandemic and we can help the bank keep a better eye on their portfolio, which is a key to risk management. All of these things help bankers do their job more efficiently and take better care of their customers.
Hear from our other board members in these articles:
Filling in the Gaps and Stepping In Between
Maintaining Trust and Building Better Banks