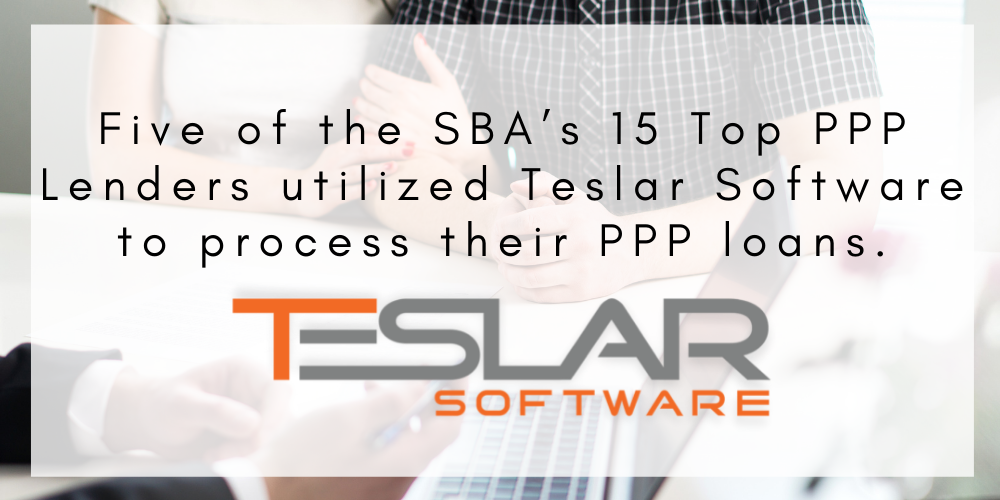 Springdale, Ark., July 7, 2021 – Teslar Software, provider of portfolio management tools that aggregate and automate lending and deposit operations for community financial institutions, announced today that their technology powered over 20% of Paycheck Protection Program loans issued in 2021. The 1.3 million loans powered by Teslar this year represent $22 billion of funding for small businesses across the country. The fintech received SBA approval of 80 loans per minute during peak times.
Teslar Software acted swiftly once PPP was announced in March 2020, launching solutions and educational tools that helped financial institutions and nontraditional lenders across the country efficiently provide small businesses with the funding needed to survive the pandemic. As the rounds of funding continued, Teslar Software furthered this initiative by partnering with various startups, fintechs, banks and nontraditional lenders to process PPP loans. Five of the SBA's 15 Top PPP Lenders utilized Teslar to process their PPP loans.
"The Paycheck Protection Program was successful because the entire industry joined together to work towards a common goal: helping small businesses persevere," said Joe Ehrhardt, CEO and founder of Teslar Software. "Community bankers, startups, fintechs and everyone else involved made this a top priority and the results were truly exceptional. The technology we built and the lessons we've learned through this experience have inspired our company to create new strategies and efficiencies to help community institutions succeed."
The PPP process highlighted many inefficiencies and cumbersome paper-based bottlenecks present in the loan process. To resolve these pain points moving forward, Teslar Software is making their powerful technology developed during PPP available to financial institutions across the country. By leveraging this newly available module, financial institutions will be empowered to digitize all aspects of their commercial and SBA lending process that are currently being handled manually, allowing them to fulfill loans and grow commercial relationships with increased visibility and speed.
The module will be rolled out in three phases throughout 2021 and 2022. Phase one, now available, underwrites loans, creates credit memos, funds loans and provides customers with a portal to view the status of their loan. Phases two and three will significantly expand the offerings of the customer portal. By integrating with the financial institution's core banking system, phase two expands the customer portal to show loans in progress, active or closed, along with the ability to upload and see all documents needed, closing date and the ability to add other users like CPAs and controllers. This phase will roll out in late 2021. Phase three will introduce simplified personal financial statements and integration with other bank services including online banking.
"Bankers have traditionally been hesitant to embrace technology to interact with commercial customers out of fear that digitization will dilute the relationship with this highly profitable segment," continued Ehrhardt. "However, PPP demonstrated that personal experiences can happen digitally and at scale; there does not have to be a choice made between creating efficiencies and the human touch. This new module will arm institutions with the tools necessary to strengthen business relationships with greater confidence and will change the future of commercial and SBA lending. We can't wait to put it in the hands of community bankers."