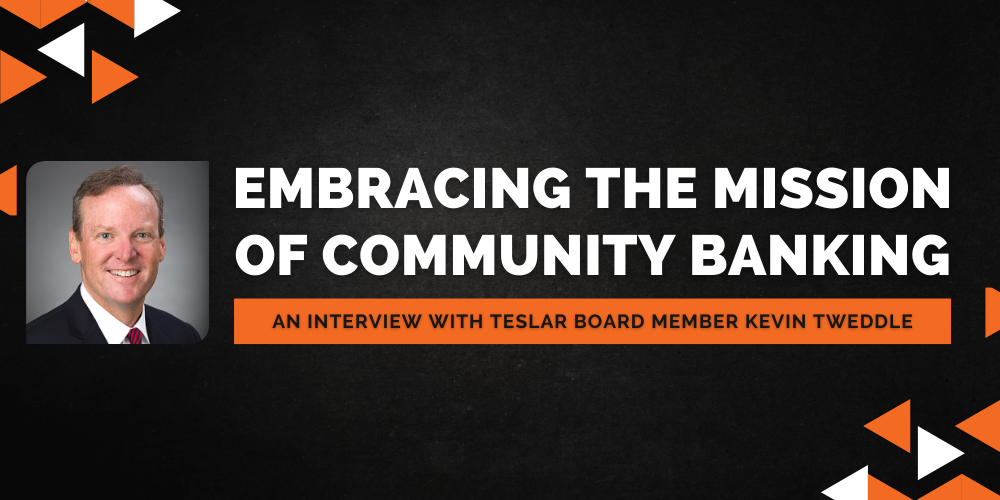 Meet Kevin Tweddle! Kevin is the Senior Vice President of Community Bank Solutions for the Independent Community Bankers of America (ICBA). Kevin has many responsibilities in his role, one of them being innovation, which is how he first got involved with Teslar Software.
Tell us a little bit about how you became a board member for Teslar Software.
We (ICBA) first met Joe and Teslar when they were part of our initial cohort of Fintech companies in the ICBA ThinkTECH Accelerator. During the accelerator program, we bring in Fintechs that are focused on providing solutions specifically for community banking. We had over 200 applicants and Teslar Software was one of the 10 companies selected, so that in and of itself is pretty impressive. The companies go through a rigorous 12-week bootcamp during which we have an opportunity to deep dive into their solutions and offer feedback to help them refine their offerings. ICBA also makes an investment in the selected companies. So as an investor of Teslar, Joe asked if we'd join their board. We're proud of what Teslar has done and what Joe is doing to lead the company, so we are happy to be a part of the board and to help Teslar Software continue the growth projection going forward.
Why do you invest your time serving on our board?
We really believe in the company and their solution. We've received wonderful feedback from our banking members who are customers of Teslar. I've served in the community banking industry for 30 years and I've been fortunate to have been a part of a fintech startup before, so I think sharing what I've learned and my banking experience will be helpful. I'm excited and humbled to be a part of the board that Joe has put together and to help Joe and his team continue to do great things and build upon their efforts to date to provide a great solution and service for community banks across the country.
What are your thoughts on what Teslar Software can accomplish going into the future?
It's nowhere but up for Teslar. I think those that are successful in serving community banks are those that really embrace the mission of community banking, and I can see how Teslar Software has done that. It's a great mission to serve and help community banks in this environment as they go through digital transformation, industry consolidation, competition from global players and from some fintech players that are trying to compete in the banking space. That's why ICBA's efforts to bring together fintechs like Teslar with community banks to create community-bank focused solutions is critical.
During the pandemic, we had a unique situation to help. Everybody was starting from scratch, it's not like there was a company that was prepared to meet the needs of PPP. It's really amazing to build software specifically for something outside of your normal everyday business and serve 50+ companies in just a few months through a very complex and ever-evolving process. I think it's a tribute to the company, Joe, and the team to be able to pull that off. And I think that's going to be another level on the foundation for success going forward. It gives the company an even better understanding of industry needs and how the product can grow better over time.
How does our solution assist community banking?
Most community banks don't have the resources to build or buy their own software. Community banks also typically have smaller staff and run lean operations, so they rely on third-party partners to deliver very specialized solutions. There is a particular need for things that require loan workflow or dealing with exceptions. Teslar is suited to meet these needs and has tailored a solution perfectly for community banks.
This solution is also benefiting small businesses across the country. Community banks were there for small businesses during this pandemic and Teslar allowed that to happen in an efficient and effective way. So, the solution's impact goes beyond community banking and is also benefitting communities across the country.
Is there anything else you'd like to add?
I just want to mention how Teslar Software has gone above and beyond, particularly with the PPP program. It has put them on the national map as a solution provider that is committed to banking and the community banking industry, and proved they are a leader. The company had to build this PPP program from scratch with new evolutions and new changes coming through every day. Their commitment to that has been very meaningful for our community banking members who are also Teslar clients. Teslar Software has become not only a thought leader, but a solution leader.
Hear from our other board members in these articles:
Community Banks at the Center of It All
Filling in the Gaps and Stepping In Between