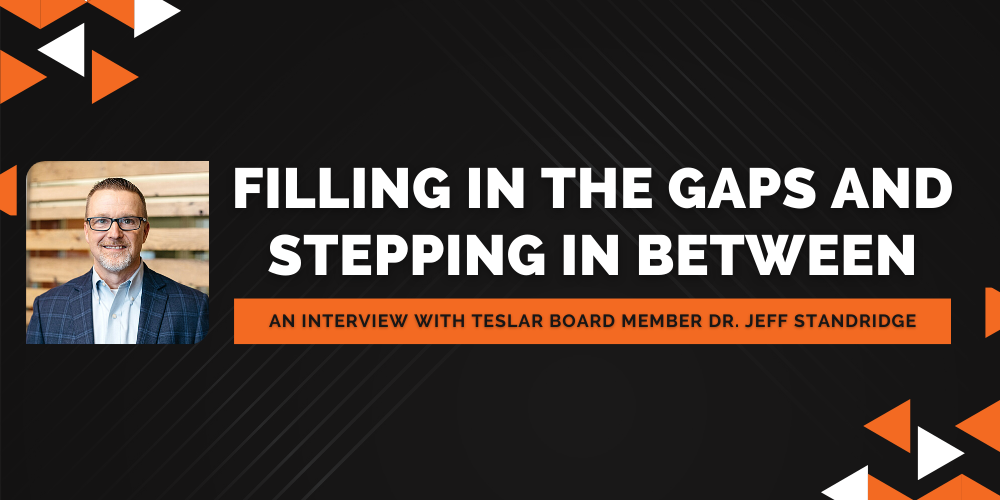 Meet Dr. Jeff Standridge! Jeff is a managing partner for Cadron Capital Partners and Cadron Creek Capital and Managing Director of The Conductor, an entrepreneurial support organization. As someone who works closely with entrepreneurs and aspiring entrepreneurs, Jeff became acquainted with Joe Ehrhardt, CEO and founder of Teslar Software, as a mentor and investor in the company's first fundraise.
Let's talk about why you invest your time serving on the Board.
One of the reasons I invest my time is because I've also invested my money. I am a shareholder of Teslar Software. Secondly, I invest my time because I'm investing in the state of Arkansas and Teslar Software is an Arkansas-based company. Through my role as an entrepreneurial support professional, it's very important to me that we lift up these companies. I also need to go another step further at talk about my affinity for Joe, his story, the leadership that he has brought to Teslar Software, and finally, the problems that Teslar solves for community banks and even larger financial institutions. Teslar Software's vision and their purpose to make banks more efficient is not just something that's on a piece of marketing collateral, it's something that Joe not only thinks about, but also breathes that perspective across his team every day.
What do you think Teslar Software can accomplish in our industry?
This vision and this purpose to make banks more efficient is something that permeates the organization. Everything that Joe and his team do is driven by thinking about ways to accomplish that vision through Teslar Software. I think a great example of this is the work that was done to help with the Paycheck Protection Program. Joe saw an opportunity to make that process much more efficient for not only Teslar Software's existing customers, but also customers to-be and potential customers. I don't think that he would have thought to create that had this perspective of making banks more efficient not been at the root of who we are as an organization. The number of banks that we have served with this new module and the volume of applications that have been submitted through it in such a short period of time is truly a picture of high efficiency.
How do you think our solution assists community banks? How do you think Teslar Software can make positive improvements in community banking?
There are functions that core systems carry out that are pretty common, but there are other very vital functions that take place within banks today that core systems just don't address. These functions are being done today via Excel spreadsheets, the back of an envelope, a notepad, or a series of paper-based files. Being able to integrate and stand in the gap of some very large players in the software market, to provide a niche level of service that contributes to the bank's efficiency every bit as much as a core system does, is something that should cause community banks and even larger financial institutions to step back and take a look, especially because a set of modules like those Teslar provides relative to the price point is pretty phenomenal.
Anything else you'd like to add?
If you have not yet come across Teslar, I encourage you to take a look at what they have to offer. I'm very excited not only about what we've done in the past, but about where we're going. I'm confident that Joe and his team are going to be committed to your success as much as they are the success of the other clients that we've been serving for years.
Hear from our other board members in these articles:
Community Banks at the Center of It All
Maintaining Trust and Building Better Banks