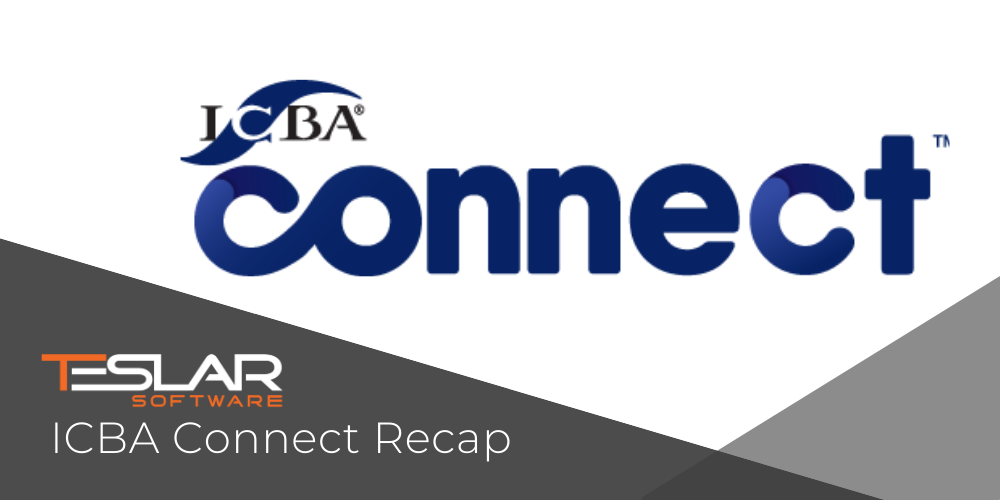 After a long year of pandemic-friendly virtual conferences and trade shows, the Teslar team enjoyed a fun and eventful ICBA Connect this March! We were thrilled to see ICBA Connect bring a change of pace to the virtual conference world. This year, Account Executives David Hamrick and Colin Savells, as well as Business Development Reps Ty Carlson and Jacob McDaniel attended the event. The team all shared their favorite parts of the event.
While it may not be Hawaii, everyone was still excited to be back with the ICBA. "I think participating in the ICBA conference each year is critical for our company because we have formed such great relationships because of the ICBA," says David. Jacob also adds, "Connecting community bankers with vendors that can promote innovation and help their customers is one of the things ICBA conferences do best."
While we love being able to meet new people and build new relationships, we also love to meet up with our current clients and other friends. David explains, "It's more than just an opportunity for new contacts. It was fun to talk with current clients that made a point to stop by and say "Hey!" like Opportunity Bank of Montana, Pinnacle Bank, Gibsland Bank & Trust, and others. It shows that they believe in us and value our relationship."
This was Teslar Software's third year to attend the conference. In 2019, Teslar won the Banker's Choice Award for Most Impactful Solution and participated in the ThinkTECH Accelerator program. Two years later, the team is still building on those connections. "I got to connect with a lot of people I have been talking to since participating in the ThinkTECH Accelerator. It is exciting to continue to grow our relationships with ICBA banks," says Colin. Teslar Software was honored to co-sponsor the ThinkTECH showcase this year and see our involvement with the accelerator come full circle.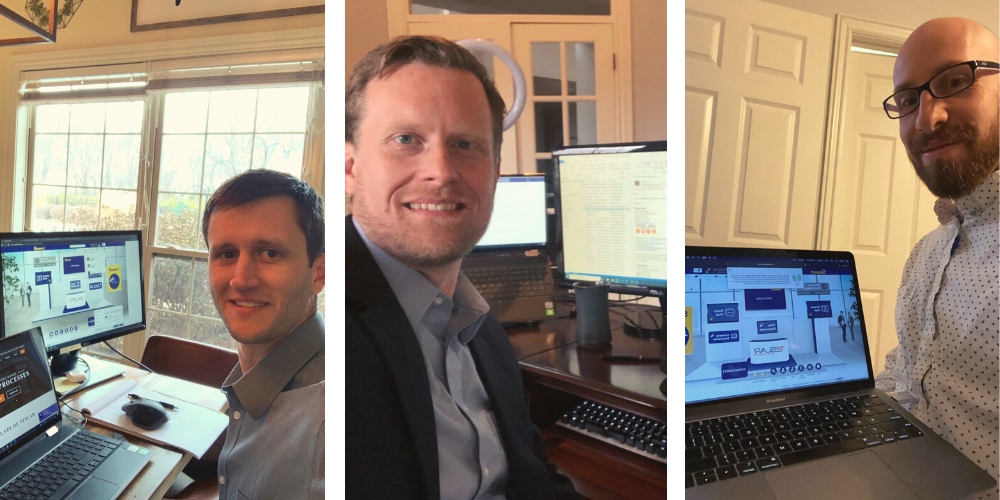 Pictured: Colin, David, and Ty showcasing their virtual setups!
Naturally, a virtual conference looks a lot different than a traditional in-person show. We asked the team their thoughts on the ICBA's virtual platform. Everyone agrees that it was the best virtual conference Teslar Software has attended since the pandemic. Colin explains that the virtual engagement was very high in this platform. "The virtual engagement and chat features were my favorite parts of this platform. It was by far the best conference of the year due to the content, speakers, and all the bankers that stopped by to see what we're up to."
The team also felt like the platform's features made it easier to stay organized and keep up with conversations. Ty explains, "Compared to other virtual conferences I attended last year, I felt like it was much easier to communicate and keep track of conversations. One perk of virtual events is that I am able to divide my time between people more easily and can maintain more continuous conversations." Jacob also adds, "Many bankers sent me a message just to thank us for being at the conference and supporting the ICBA, which in turn led to a lot of great conversations."
ICBA Connect boasted a diverse group of keynote speakers this year. The Teslar team's favorite speaker was Matthew McConaughey. "It was nice to have a "celebrity" that wasn't performing and was just talking about life in general with how you can apply strategies that work in both personal and professional settings," says Ty. Colin adds, "McConaughey always brings a good perspective to things and the positive nature of the message was refreshing when all you seem to hear in the news is doom and gloom."
Although nothing compares to meeting people face-to-face and being able to shake hands, Teslar Software is grateful for another great year at the ICBA conference. Hopefully, in-person conferences will return this year and we will see you all face-to-face at ICBA Live 2022!