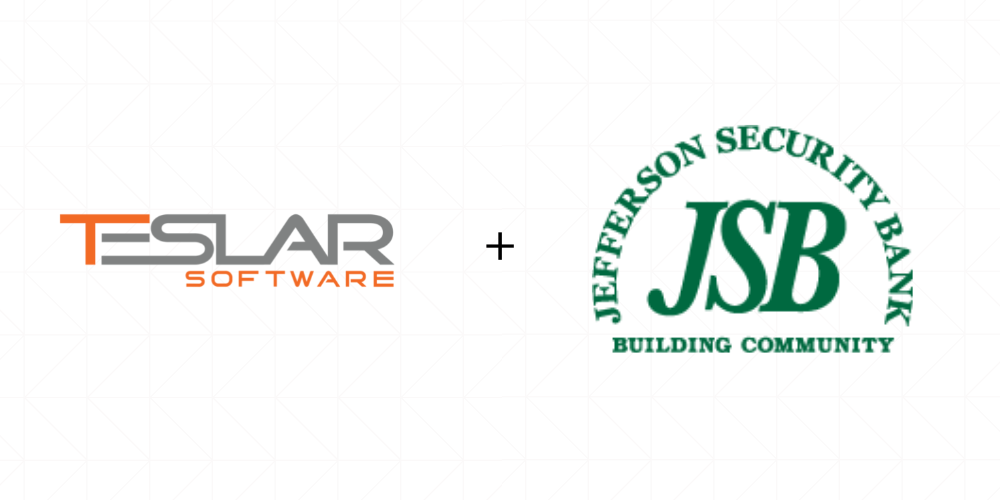 Jefferson Security Bank Selects Teslar's Full Suite of Automated Workflow and Portfolio Management Tools
Oldest corporation in West Virginia partners with fintech to improve productivity, strengthen customer relationships
Springdale, Ark., Nov. 9, 2021 – Teslar Software, provider of portfolio management tools that aggregate and automate lending and deposit operations for community financial institutions, today announced that Jefferson Security Bank has selected its full suite of automated workflow and portfolio management tools to centralize the lending process, boost efficiencies and more strategically serve customers.
Shepherdstown, W.V.-based Jefferson Security Bank was first introduced to Teslar Software during the Paycheck Protection Program (PPP). The bank successfully leveraged Teslar's PPP solutions and was impressed with the company's approach to customer service and the expertise of the team. This positive experience, coupled with Teslar Software's strong reputation among the banking community, prompted them to partner with Teslar Software for the full suite of solutions. The bank is starting with exceptions management and will then launch portfolio management.
"From the beginning, we've been impressed with Teslar Software's agility; they're willing and able to quickly pivot in response to evolving business or regulatory needs," explained Cindy Kitner, CEO of Jefferson Security Bank. "Our partnership with Teslar Software has already proven to be beneficial for our team as well as our customers by allowing us to better serve their needs and deliver stronger customer service. By growing this partnership, we will be able to operate more efficiently, improving transparency and communication among our loan team to ensure everyone remains fully informed with aligned priorities. We are committed to running our bank with technology at the forefront and partnering with Teslar Software directly supports that ongoing strategy."
By leveraging Teslar, Jefferson Security Bank will be able to streamline the commercial lending process, increasing transparency throughout the organization and empowering lenders with easier access to relevant borrower and portfolio data. The technology will also allow the bank to improve documentation and reporting, enabling lenders to spend more time on strategic initiatives and customer relationships.
"Jefferson Security Bank has a rich history but is also innovative; the bank recognizes that technology strategy and customer loyalty go hand in hand," said Joe Ehrhardt, CEO and founder of Teslar Software. "With our full platform, Jefferson Security Bank will be able to increase efficiencies and centralize data across the enterprise, allowing them to ultimately improve the experience for both customers and employees. We look forward to supporting the bank and providing them with the tools necessary to compete with confidence."
About Teslar Software
Teslar Software provides portfolio management tools for community financial institutions that aggregate and automate lending and deposit operations processes into a single system, enabling institutions to scale and improve all aspects of the bank. This SaaS solution with over 20 modules boosts efficiencies by providing easy access to centralized, relevant information to balance portfolios, optimize profits and help community bankers more efficiently serve their customers and better understand their needs.