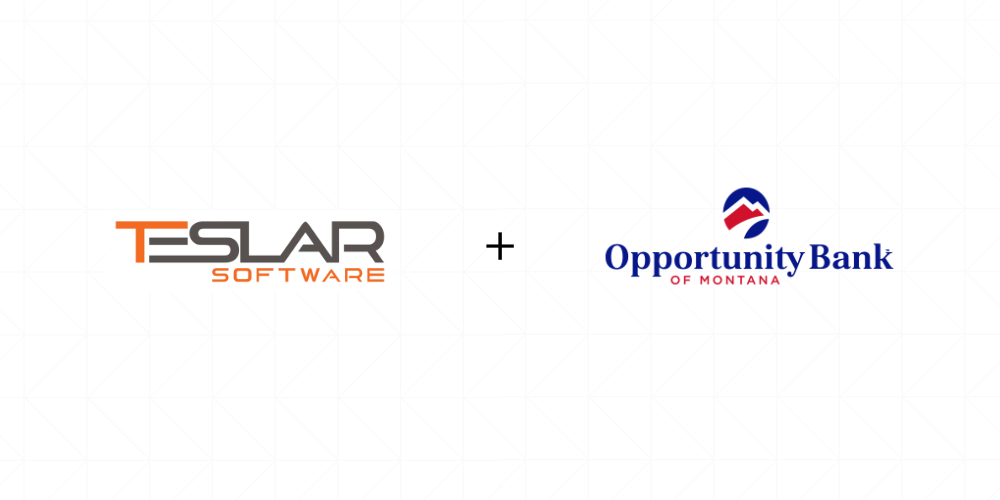 Opportunity Bank of Montana and Teslar Software today announced their partnership to streamline the bank's lending process for both employees and customers. The bank anticipates loan growth of up to 10% this year and leveraging Teslar will allow them to scale easily and efficiently.
Opportunity Bank of Montana is a leading Farm Services Agency guaranteed lender and a leading residential mortgage lender in Montana. The bank has 24 locations across Montana and has been committed to serving its community for 100 years.
"We want to be known not as a bank with some technology offerings, but rather as a technology leader that delivers banking services. This is why we're committed to investing in modern, transformative solutions like Teslar," said Pete Johnson, CEO of Opportunity Bank of Montana. "Teslar allows us to track loans with complete accuracy and precision, ultimately saving borrowers and lenders time. We're confident that Teslar's platform is going to be instrumental as we strategically grow our portfolio."
Teslar provides the tools and visibility needed to ensure consistency and expedite loan fulfillment, optimizing insight and productivity. Tasks that were previously staff-intensive, such as document indexing, will be automated through Teslar's operational workflows, creating efficiencies and reducing the chance of human errors.
"We're proud to deliver the robust technology needed to help manage Opportunity Bank's portfolio and growth plans," said Joe Ehrhardt, CEO and founder of Teslar Software. "Our partnership will allow their lenders to focus more time on what they do best: serving and supporting the community."
About Teslar Software
Teslar Software, founded in 2008, is a configurable lending process automation platform for community financial institutions. Teslar transforms commercial lending by providing easy access to centralized, relevant information to balance portfolios, optimize profits and help community bankers effectively serve their customers. Named Best Solution for Lending by the 2021 FinXTech Awards, Teslar Software continues to earn their reputation as a top technology provider for community institutions. Please visit www.teslarsoftware.com to learn more.