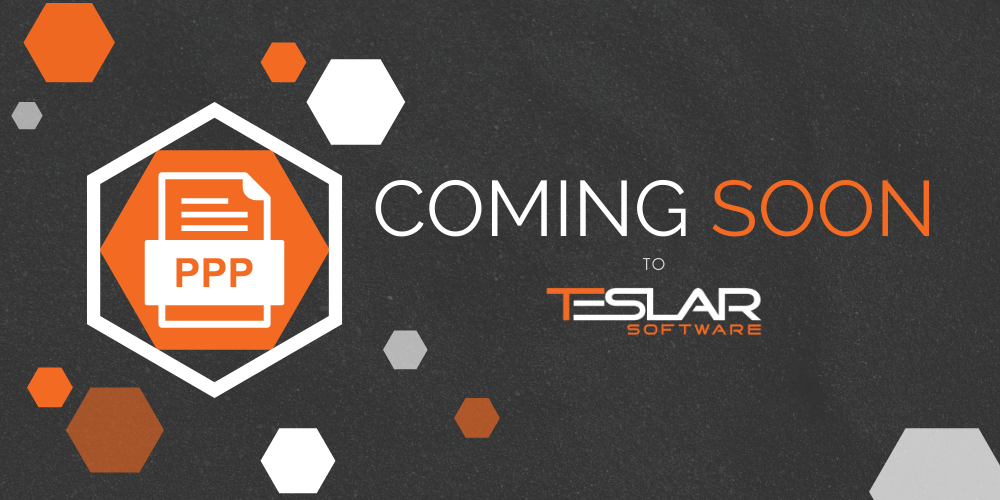 Community bankers and small business are anxiously awaiting the arrival of the next stimulus bill, which will more than likely include another round of funds for the Paycheck Protection Program. At this time, there is no official ruling, and all details are based on probability and speculation, but we learned last time that this program is fast-moving and ever-changing. By our commitment to helping make PPP an easier process for community bankers and their customers, we're back with an all new module for this new round.
In the event the Paycheck Protection Program starts back up, Teslar Software (creators of https://ppp.bank, Teslar Unite - PPP and Teslar PPP Forgiveness) will be offering a new module-- Teslar PPP Complete! A software solution that fully automates the PPP loan process from origination through forgiveness. Significantly improve the laborious PPP process by allowing your bank to manage and monitor all of your PPP loan applications starting from Client Interest to SBA Approval to managing Forgiveness requirements all the way through closing.
Due to the belief that paperwork may be harder this time, this portal will handle full PPP loan origination: automatically sending the gathered data to DocuSign® for signature, and then to CAFS/E-Tran for approval. We have already begun developing parts of the system while we await the release of specifications. We want you to be ready to help your customers as soon as the SBA allows loan processing to begin and Teslar PPP Complete will allow you to do just that.
We also understand that the current climate has caused increased stress for you and your team, but with Teslar PPP Complete, you will not be alone in this process. All Teslar Software clients are assigned a Client Advocate that will serve you throughout the entire process, hosting trainings and meetings as needed.
Teslar PPP Complete is developed for rapid implementation, so you can begin working through these loans even sooner with Teslar. We are an approved SBA Vendor and will integrate with CAFS/E-Tran to automatically submit applications to the SBA.
Our solution is readily available without long-term contracts or obligations. Teslar PPP Complete boasts the competitive price of $30 per application, with an additional $7 per DocuSign® event (optional). Yes, this price covers the ENTIRE process— loan origination, E-Tran submission, forgiveness, and forgiveness submission to the SBA. The DocuSign® cost is separate in the event you would like to use your own DocuSign® account or paper instead.
If you're ready to get a head start with this solution, please email us at sales@teslarsoftware.com to start the discussion.
Some key features:
Will Integrate with CAFS/E-Tran - applications are automatically submitted to the SBA for approval once completed in Teslar

DocuSign integration allows borrowers to securely provide e-signatures throughout the entire process

Support the borrower while filling out the application with the Borrower Assist feature

Secure customer portal built into your website allowing customers to save and continue their application in multiple sittings

Allows multiple users so the customer can enlist help from their CPA or other personnel

Detailed contact history tracking

Communicate with borrower from Teslar throughout entire forgiveness process.

Advanced Reporting on your PPP data – all key processes from application to forgiveness.

Secure portal for borrower to answer application questions and provide needed docs.

No limit to number of users.

Data is not purged for 7 years – available to you at any time.