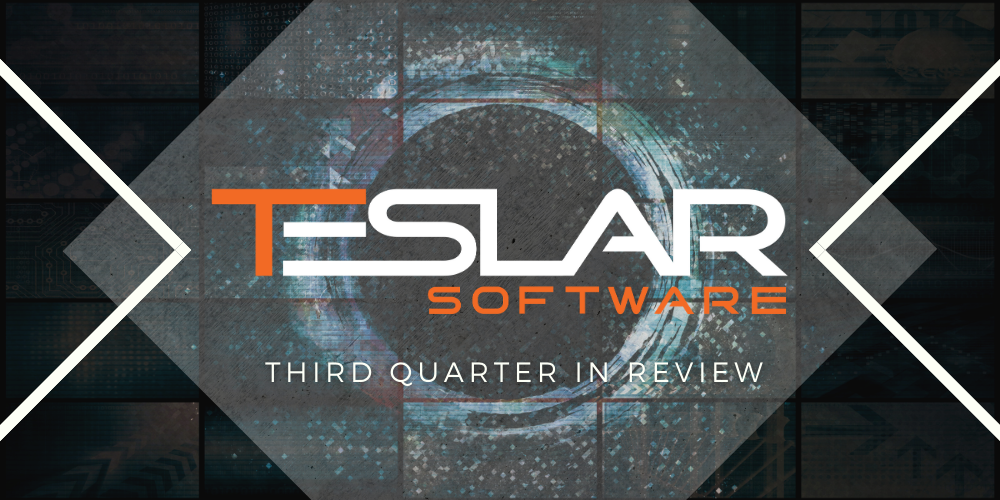 So far this year has been, quite literally, unbelievable here at Teslar Software. So many great things have been happening and we're excited to share just a few of those things with you today as we say goodbye to this third quarter of 2020.
Welcoming New Clients
We've added over 50 new clients this quarter. These banks have partnered with Teslar to help manage the PPP loan forgiveness process, and many have also partnered with us for long-term lending improvements. We are honored to have helped facilitate hundreds of thousands of PPP loans and serving our communities in this way. "The bankers we work with have been incredibly dedicated to supporting small businesses in their communities during these trying times, which is evident by the high volume of PPP loans that they were able to fund when others could not," said Joe Ehrhardt, CEO and founder of Teslar Software. "We're proud to have helped small businesses across the country receive the funding they need to get back to business. The battle is not over, we remain committed to continuing to support this initiative as more details emerge."
Team Member Changes
The majority of our team members continue to work remote. As the COVID-19 cases in our area remain relatively high, we do not have any plans in place to fully return all team members to the office this year.
However, we still welcomed three new team members to the Teslar Software family this quarter, and navigated the territory of pandemic-friendly hiring, onboarding, and training processes. This quarter, we welcomed Support Engineers Will Turner and Michael Terry to our Support team and Software Engineer Ryan Bratton to our Engineering team! We checked in with these teammates to see how their time at Teslar Software has been going so far.
"Starting a new job without ever actually meeting anyone was definitely a challenging experience. The most important thing that got me through that is just how helpful everyone in support and Teslar in general are," says Will, "Pandemic or no, there is a ton to learn about Teslar and it seems everyone I encounter has a "We're all in this together" attitude and has been extremely patient while I try to find my groove."
Michael adds, "My time here has already been amazing. I'm experienced on the tech side of things, but banking is completely new to me. I have appreciated all the help that my teammates have given me as I've been learning. It's all part of the culture here at Teslar Software. We are only as strong as we are strong together. It has been exciting to be at the forefront of new banking tools and implementations. I have enjoyed my time here immensely, so far. Based on what I've seen, I have no reason to expect anything different for the rest of my time here."
Most people have spent this pandemic adjusting to remote work, but our newest Engineer, Ryan, has experienced the opposite-- adjusting from a previously remote position to an in-person one (following all CDC public health guidelines). Specializing in User Interface/User Experience, Ryan has been spending most of his time with us working on some new projects and special features we can't wait to roll out!
While not ideal circumstances, we're grateful to have these new teammates with us and that they are still getting to experience many of the things team members love about working at Teslar Software.
Teslar PPP Forgiveness Went Live
Our PPP Forgiveness solution, Teslar PPP Forgiveness, went into full production to all clients in early September. Our team took a product from idea to full production in just five months and we are so incredibly proud of the Teslar family for this amazing accomplishment. "Thank you to all the banks and customers that have helped us test and fix bugs along the way, no doubt more changes to come," says Joe Ehrhardt, CEO and Founder, "and thank you to the amazing team at Teslar Software who have read more IFR's than we ever thought and have built a solution in lighting speed while making parts of the solution operate as soon as they were ready."
This SaaS product helps community banks manage and submit PPP Forgiveness applications from start to finish. It offers a secure and dynamic forgiveness application portal for the loan applicant to provide the lender with the required documents and application data to calculate forgiveness. This application portal automatically syncs with your entire PPP portfolio to a back end pipeline—perfect for audit trails and record keeping. Our solution also provides a centralized, easy-to-use internal platform for your financial institution to track and monitor the progress of forgiveness application and accompanying documentation.
The Teslar PPP Forgiveness portal is also integrated with DocuSign® so bankers can securely send documents to customers for e-signatures and is connected to the SBA for seamless submissions.
We're Finovate Award Winners
This September, we won Best Fintech Partnership for our efforts with PPP.bank (a free website we created in collaboration with Citizens Bank of Edmond and Mark Cuban) at FinovateFall Digital! The Best Fintech Partnership award is defined as a new, groundbreaking product and acknowledges two organizations whose partnership allows them to do something together that is greater than the sum of their parts. PPP.bank accomplishes that and so much more! These past six months have been challenging for everyone, some worse than others, and we're so grateful to have been given the opportunity to give back to small businesses and their communities as they navigate PPP Forgiveness.
We're proud of everything the Teslar team has accomplished in this short time, and are looking forward to finishing this year strong! Only one more quarter to go. To all of our readers, followers, clients, mentors, and partners – thank you! Teslar Software would not be where we are today without your support.
Psst… if you'd like to learn more about partnering with Teslar, we'd love to help! Email us at sales@teslarsoftware.com today! Teslar has so much to offer community financial institutions to help streamline manual processes and track and manage your bank's entire portfolio.