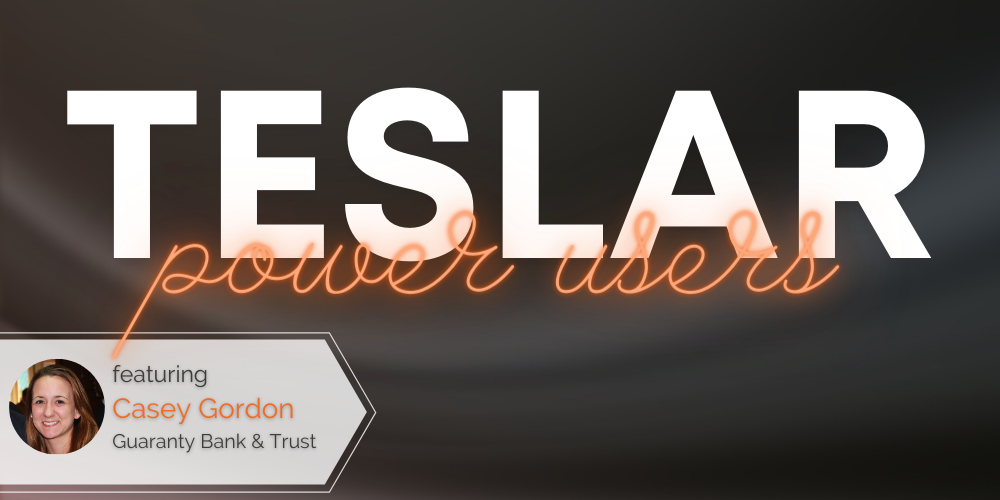 Teslar Software is on a mission to help community banks thrive. If your current processes are manual, outdated, and all too time-consuming, Teslar has a solution to help your team become empowered and efficient! Continuing our Power Users series, where we share real-life use cases of Teslar partnerships, Casey Gordon shares about the modules that Guaranty Bank & Trust, based in Belzoni, MS, love the most in Teslar.
Meet Casey Gordon! Casey has been with Guaranty Bank & Trust for 13 years and admins all of the bank's loan software, including Teslar. The bank utilizes Teslar throughout the day from exception tracking to workflows; they have built workflows that handle all loan extensions, risk rate, charge offs, internal loan reviews, annual review, and asset-based lending reviews. They have been a Teslar client for five years. Some things she loves about Teslar…
Pipeline
Prior to partnering with Teslar, the bank utilized Word documents to create loan packages. Lenders would input the same information repetitively throughout the multiple documents, but with Teslar, information is only entered once. The bank also utilizes their pipeline to direct the loans to the appropriate workflow. "Teslar has made the whole loan process much more efficient than it used to be," says Casey.
"The lending side of our bank is in Teslar constantly. The pipeline we have is huge and very complex. Our lenders start in the pipeline with the very first call they make to a customer, current or prospect. Any step within a loan, start to finish, is done entirely in Teslar—credit memo "write up", routing to financial analyst, loan pricing to loan processing and boarding. We also route our approvals to the appropriate loan committee for approval. Everything is built off of routing and workflows, so it automatically goes where it needs to go and no one has to spend time figuring that out."
Integration
"Teslar integrates with many of the loan products we use, so lenders can use different loan software or applications to pull credit, flood determination, or loan pricing while staying within the Teslar interface. It gives our lenders one spot to go through the entire process."
"Teslar's integrations have increased efficiencies for both our lenders and back office staff. Teslar is integrated with our Loan Origination System, which prevents our lenders from entering duplicate information. Teslar also integrates with our imaging system so anything that the lender puts in the pipeline directly flows into our imaging system. This takes a lot off of our Loan Operations team, as they're not having to scan the information."
We are grateful for creative and innovative partners like Guaranty Bank & Trust that help make our products better and willingly share their Teslar story!
Read our other Power User stories:
Utilizing Teslar to Empower Your Employees