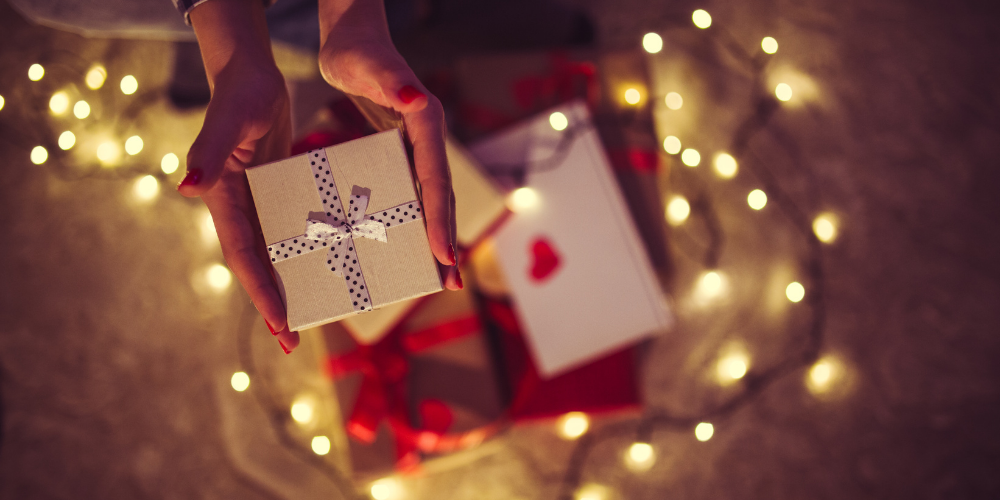 Consumer behavior is an important economic driving force. Although holidays are never about gift-giving or spending money, these cultural norms are still major factors for the economy. V Day is a staple day for retail industries like floral, candy, and jewelry. To get a deeper look at just how much we are spending, who is spending it, and what we are spending it on, we turned to NRF (National Retail Federation), who has surveyed consumers about Valentine's Day plans annually for almost 20 years.
How much is Valentine's Day worth?
55 percent of survey respondents said they were planning to celebrate Valentine's Day. In 2020, the average person who intended to celebrate Valentine's Day planned to spend $196.31 (a 21 percent increase from 2019) for a national total of $27.4 billion, up 32 percent from 2019's $20.7 billion. This national total has been rising steadily since 2017.
More Love to Share
More people are spreading the love on Valentine's Day these days and purchasing gifts for loved ones aside from significant others and family members. Since 2010, the distribution of the total per-person spending has risen for friends, children's classmates, co-workers, and pets. In 2020, 27 percent of respondents said they would be buying a present for their pet, while only 17 percent said the same in 2010.
Men Spend More than Women
Of those planning to make purchases for Valentine's Day, 56% were men and 54% were women. The average spending per-person was $291.15 for men and $106.22 for women... men are spending almost 3x as much on Valentine's Day than women!
Let's Talk Gift-Giving
The top gifts purchased will probably not come as much of a surprise-- you've more than likely gifted or been given at least one, if not all, of these. In 2020, the top planned gifts included candy (52%), greeting cards (43%), flowers (37%), an evening out (34%), jewelry (21%), clothing (20%), and gift card or gift certificate (19%).
The most expensive gift given is jewelry, with a national $5.8 billion spent. Followed by $4.3 billion on an evening out, $2.9 billion on clothing, $2.4 billion on candy, $2.3 billion on flowers, $2.0 billion on gift cards, and $1.3 billion on greeting cards.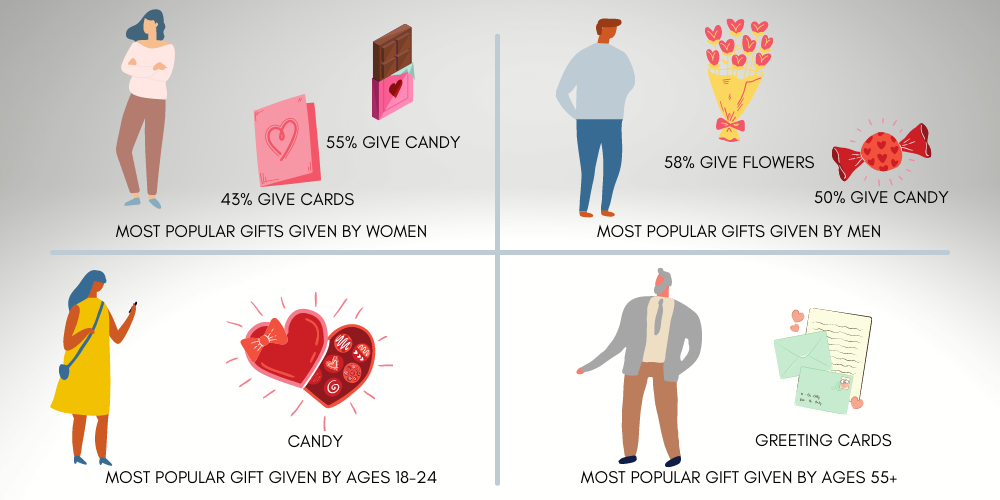 Who Isn't Celebrating?
The highest average spending comes from the 35-44 age range with an expected average of $258.78 per person, followed by $207.51 per person for ages 25-34. All other age ranges showed drastic decreases in comparison: ages 18-24 at $109.31 per person, ages 45-54 at $185.91 per person, ages 55-64 at $110.94 per person, and 65+ at $99.14 per person.
45 percent of the nation does not celebrate Valentine's Day, but that doesn't always mean they don't mark the occasion. A great deal of those who do not plan to celebrate in the traditional sense still plan to commemorate with plans like purchasing "anti-Valentine's" gifts, treating themselves, or planning a get-together. 57 percent of those planning these types of events were ages 18-24.
The way in which we celebrate holidays and special occasions varies from person to person. Personal preferences and convictions aside, holidays gift-giving is a staple in driving commerce and stimulating the economy. Valentine's celebrations this year might look different for many people. With social distancing and interim restrictions on capacities in retail stores and restaurants, we can only imagine many people will be getting creative with their celebrations this year and there will be a lot more low-key at-home celebrating.
If you enjoyed this article, you might also like: