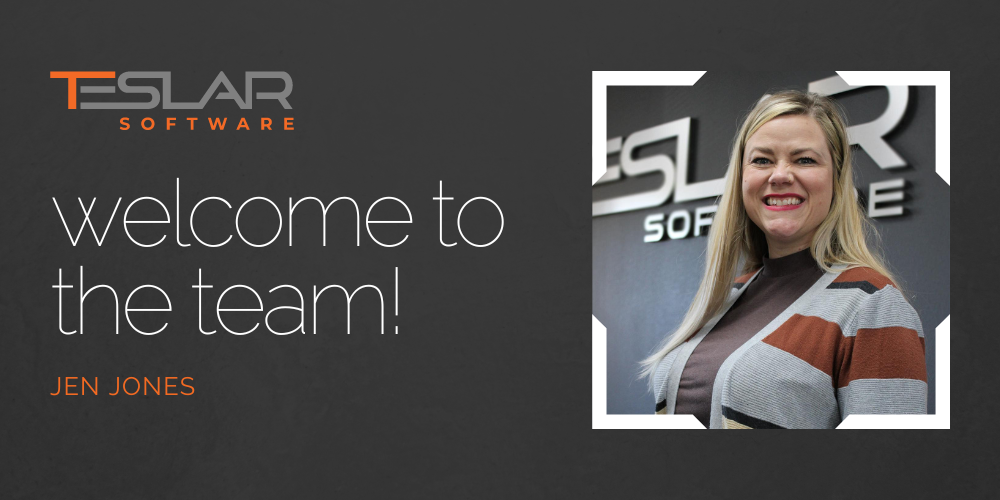 Please join us in welcoming Jen Jones to our Client Success team as the newest Key Client Advocate!

Jen joins us with over 17 years of banking experience, where she was also a Teslar user for many years. In her role here at Teslar Software, Jen will be working closely with key clients to offer support, ensure their needs are being met, and that they are getting the most out of our software. We chatted with Jen and asked her a few "getting to know you" questions to help us get better acquainted:

What's your favorite movie or book?
Hmmmm….this is a hard one. I am a sucker for a good rom-com, and it's hard for me to pick just one. I would say a couple of my faves are Life as We Know It and The Wedding Planner. Nothing gory is on my radar!


What's your go-to karaoke song?
I really enjoy singing, but I don't really have one. 😊


What's the worst job you've ever had, and what did you learn from it?
During my high school years, I would fill in for housekeepers when they would go on vacation in the summer. One summer, we were cleaning bathrooms, and one bathroom had questionable material in the sink (I'm actually probably making it sound worse than it was). I TRIED to be brave, but I was trying to not get sick.

It wasn't a bad job in general. However, I learned that I struggle to clean bathrooms with unknown substances in the sink.




Have you ever met anyone famous?
I went to Nashville about 15 years ago to attend a music conference and I got to meet several Christian music artists. I also got to meet Sarah Evans and a couple of country artists backstage one time. I'm not best friends with any of them or anything – LOL!


We are excited to have Jen on the Teslar team!