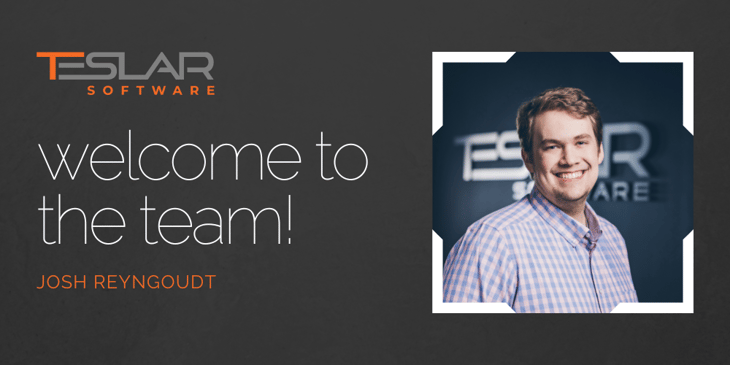 Please join us in welcoming Josh Reyngoudt to our Support team as the newest Support Specialist!
Josh joins us with a background in Information Systems as well as time spent in the banking industry. In his role here at Teslar Software, Josh will support our clients by diagnosing and resolving software-related issues. We chatted with Josh and asked him a few "getting to know you" questions to help us get better acquainted:
What's your favorite thing to do on the weekends?
What I look forward to most on the weekends is getting together with my board game/DND group. We'll rotate out different board games depending on what we're feeling like playing or if someone has something new. Lots of fun!
What was your favorite subject in school?
For sure history. I took all the history classes I could & still read/watch all that I can. Every few months I'll get really interested in a specific historical period and learn everything I can about it.
What three items would you take with you to a deserted island?
All of JRR Tolkien's writings (I'm going to count this as one item, maybe one massive book), my sketchpad & pencil so I can finally force myself to learn how to draw, and lastly a piano or keyboard. I could entertain myself for quite some time with just a piano.
Do you have any hidden talents or hobbies?
Kinda related to my answer for the last question, I love playing piano. I've only picked it back up recently, but I try to practice at least an hour a day. I'm not crazy good yet but I'll get there.
We are excited to have Josh on the Teslar team!