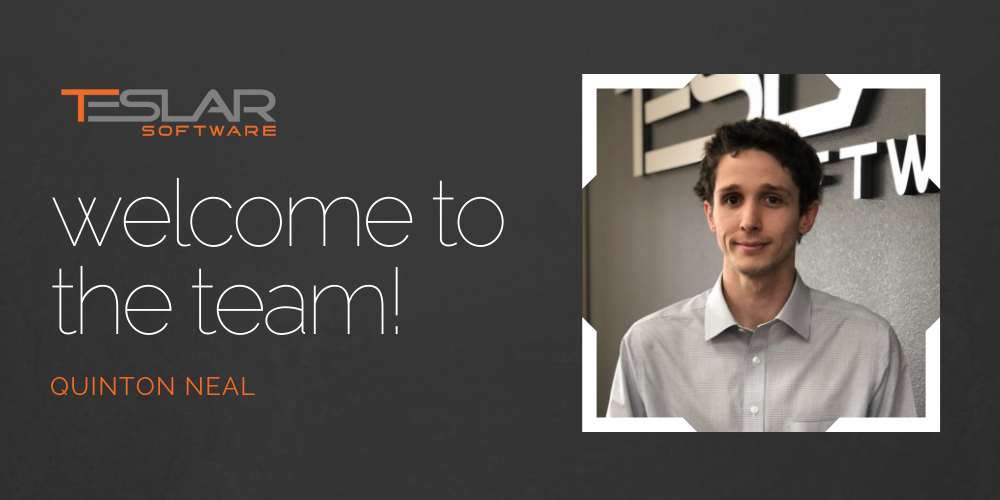 Please join us in welcoming Quinton Neal to our Engineering team as the newest Software Engineer!
Quinton joins us in his senior year at the University of Arkansas majoring in Information Technology. In his role here at Teslar Software, Quinton will be working on the development of new software as well as improving and correcting user experience with our current offerings. We chatted with Quinton and asked him a few "getting to know you" questions to help us get better acquainted:
What's your favorite place to eat around here?
My favorite place to eat around here would definitely be "A Taste of Thai." Growing up, my parents would take me out to get Thai for a treat. So, this love for it has translated into my young adult years!
What's the best book you've read recently?
The best book I have recently read would be a tradeoff between The Hobbit and Ender's Game. Ender's Game is one of my all-time favorites, so I just reread it. However, I love how great of a storyteller and world-builder Tolkien is.
If you could snap your fingers and become an expert in something, what would it be?
If I could snap my fingers and become an expert in something, it would 100% be animation. I am constantly doodling, and I love to draw cartoons. I have done a little animation on my own; although, it would be awesome to be better at it!
What fictional place would you most like to visit?
A fictional place I would like to visit would be any Studio Ghibli movie (preferably Porco Rosso though). I love the bright atmosphere and the machines present in these films. The upbeat nature of the movies makes them seem like an amazing place to visit.
We are excited to have Quinton on the Teslar team!