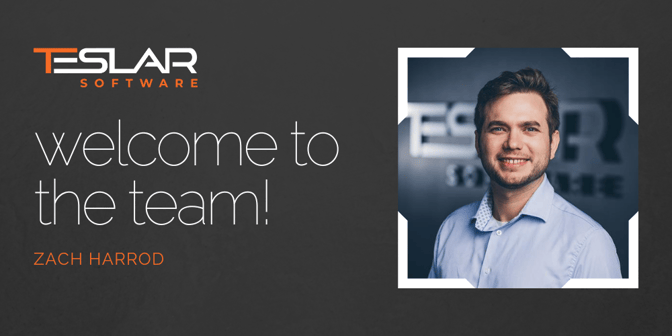 Please join us in welcoming Zach Harrod to the Sales & Marketing team as the newest Business Development Representative!Zach joins us with a background in education, having taught at the university and high school levels for nine years. He has a bachelor's degree in English and an MFA in Poetry from the University of Arkansas, and is currently pursuing his MBA.
In his role here at Teslar, Zach will work with our outbound sales team to reach out to community bankers to set up meetings where they learn how Teslar helps our partner banks.
We chatted with Zach and asked him a few "getting to know you" questions to help us get better acquainted:
How do you prefer to start your day?
I prefer to start my day with a minimum of two cups of Columbian blend coffee and a workout of some kind. Usually, however, my day starts with one of my dogs or cats bugging me for food before I've gotten my caffeine fix!
Do you have any hidden talents or hobbies?
I once held my breath for three minutes while in line for the midnight premier of Harry Potter and the Deathly Hallows Part I – a night to remember! I also write poetry, play bass guitar, and cook the occasional Sunday Sauce.
What three items would you take with you to a deserted island?
Collected Shakespeare, a pen with infinite ink, and plenty of paper.
What kind of music do you like?
I like it all, depending on what the occasion requires! I would have trouble choosing between Kendrick Lamar or Jason Isbell as my favorite artist currently working.
We are excited to have Zach on the Teslar team!