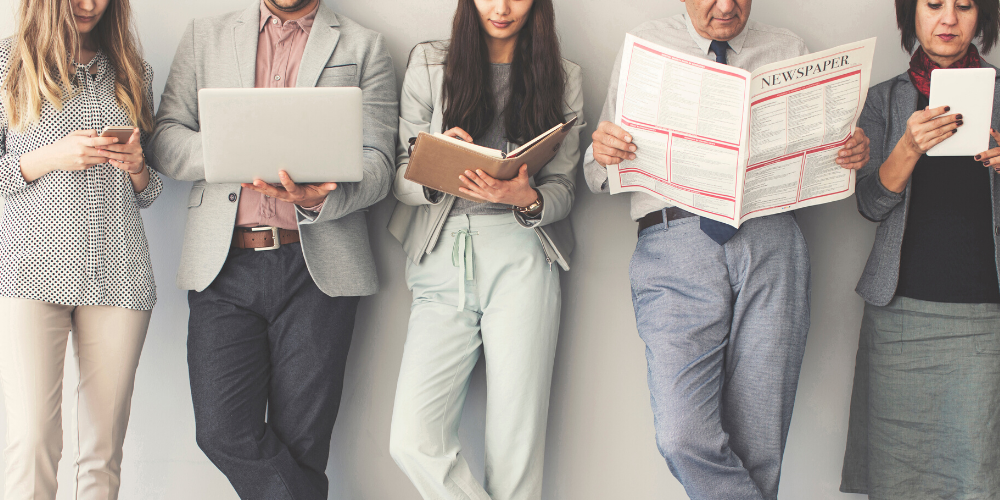 We often see challenges as a new generation grows and begins to integrate itself into adulthood. It's not news to anyone that the Millennial generation at large has struggled to integrate with older generations. With the rising trends and news stories of the war between the Baby Boomer generation and Millennials, it's becoming increasingly apparent that institutions like banks must appeal to adults with a wide variance of expectations, preferences, and needs.
It's not just Baby Boomers and Millennials. Right now, there are five generations of adults: The Silent Generation (75+), Baby Boomers (approx. 55-75), Generation X (approx. 39-54), Millennials (approx. 25-38), and Generation Z (approx. 4-24). Since the Silent Generation and Baby Boomers entered adulthood, we've made major technological advancements which have completely changed the way people live their day-to-day lives. Right now, we're seeing a unique blend of generations, some who spent the majority of their lives without technology and those who have never seen a TV antenna or VCR in person and people everywhere in-between.
This creates unique challenges for bankers' customer experience—figuring out how to give all customers a great experience when there is such a huge range of expectations among the adult generations.
The Millennial generation, born between 1981 and 1996, now make up the majority of the adult population. The unique thing about the Millennial generation is that they are the first generation to grow up alongside technology. They are skilled in technology and prefer to utilize it in all aspects of their lives. Similarly, members of Generation Z have grown up only knowing technology. Looking for quick and easy solutions, they prefer do-it-yourself options and almost exclusively use mobile apps for banking and will not use mobile services that are difficult to use or look unprofessional.
Many members of older generations are resistant to change and learning new systems, as it slows productivity, but Millennials and Gen Z-ers strive for and adapt well to change. Learning a new system is an exciting challenge and welcome change—upgrading user interface, mobile apps, and online banking offerings will excite them. However, these younger generations still think a physical establishment lends credibility when choosing a bank. In fact, a survey found that Millennials who use both branches and digital services are more satisfied with their bank than those who only use digital offerings.
The Silent Generation has spent most of their lives utilizing face-to-face interaction and still expect to do business this way. They want personal interaction whether in person or a personal conversation over the phone. They expect formality and respect. Boomers, likewise, prefer in-person interactions, especially for questions and troubleshooting. Most Boomers utilize technology, but do not prefer mobile apps for banking. If any, they prefer email for digital communication rather than social media. They use social media for friends and family and typically steer clear of the commercial side.
Generation X is the most likely to use all communication outlets—mobile, face-to-face, email, etc. They are also the most likely to do business with a competitor after a poor experience. Following a bad experience, Millennials will not only do business with others, but are more likely to leave negative reviews on social media and Google, make social media posts about the experience, and tell their friends.
Ensuring a great experience for all customers is essential to maintaining a good reputation and keeping a loyal customer base. With such a wide variety of needs, it is evident that there is still a demand for brick-and-mortar institutions that offer face-to-face interactions, as well as a growing need for advanced technology as the new generations grow into adulthood.
Source: