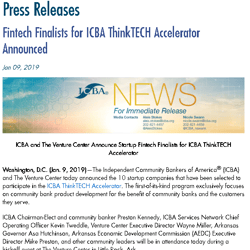 Teslar by 3E was selected to participate in the ICBA Think Tech accelerator.
ICBA services Network COO Kevin Tweddle said, "The companies selected as finalists have all shown great possibility to fulfill current community banking needs while creating opportunities for the future. It's all about creating that high-tech, high-touch future of community banking.
Read more in the ICBA Press Release.
Video: What is Think Tech
Video: Announcement, Teslar @ 37:30